Stylish Deck Chairs, Timeless Deckchairs  – The Edwardian Deck Chair
Stylish Deckchairs
Here at the Stripes Company we offer new Old Style Deck Chairs which we cover from 'canopy' top to 'footstool' toe in any of our wonderful deckchair fabrics. In addition we trim the canopies with pompoms from our range of bobble fringes, if desired.
Timeless Garden Chairs
These timeless stylish deck chairs are in the style of Edwardian deckchairs from days gone by. The beautiful canopies shade you from the sun, while the footstool lets you put your feet up, so you can totally relax. What more could you want? 
Oh I know! A matching tie on deck chair headrest……..(which we now make!!)
Restore Antique Deck Chairs
However some of our enterprising customers restore and recover their own antique deck chairs. Furthermore, they buy the deckchair fabric from The Stripes Company and recover the chairs themselves.
Also, see our video on how to make your own stylish deck chair canopy cover in 6 simple steps.
Its quite easy with our detailed instructions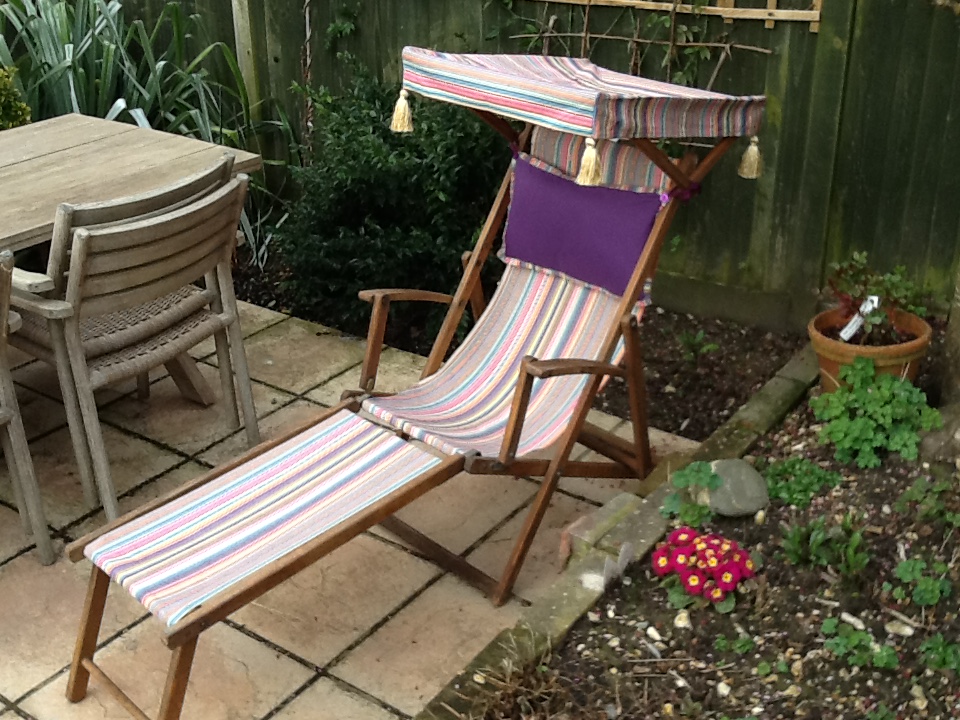 Replacement Covers
If sewing is not your thing, we can now make stylish replacement Edwardian deck chair covers, including replacement canopies and fabric for the footstools. Just choose your fabric and send us your old covers as templates.